Precautions for Personal Watercraft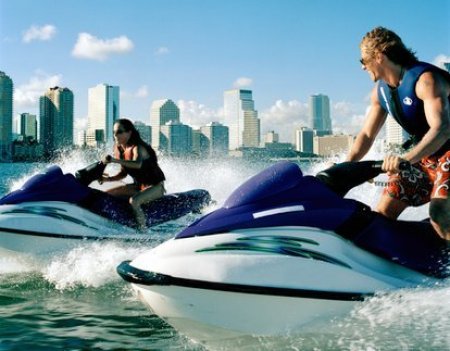 Personal watercraft, also known as Jet Skis and WaveRunners, are enjoyed by millions of people around the world. But when riding a personal watercraft, it's important to have fun, but also to be aware of safety precautions. The most important safety precaution for all personal watercraft riders is wearing a life jacket. In the event of an accident, a life jacket can save your life. It's also important to maintain a keen sense of spatial awareness; be aware of boats, swimmers, and other personal watercraft at all times. Carrying a whistle is also a good idea in case of an emergency.
Your personal watercraft should be well maintained; it's important to winterize it in the fall, and replace all essential fluids, including Yamalube 2W oil, during the spring before taking it out on the water. If you're not an expert on personal watercraft, having your machine checked by a mechanic every couple years is not a bad idea either.