Guide for Selecting a Used Outboard Motor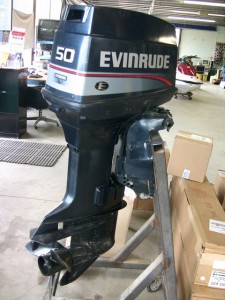 In a perfect world, we would all be able to afford precisely what our hearts desire. There wouldn't be much diversity in the boating world, as we'd all be cruising past each other in top-of-the line boats with high-end outboard motors attached to the transom. Just think of all the luxury and convenience we would experience on a daily basis. Unfortunately, we would also miss out on many of the great stories that make boating so much fun. Old, well-worn boats have a certain character that their new counterparts lack. To an extent, the same could be said for outboards themselves.
There are several considerations to make upfront when selecting a used outboard motor for your vessel. They fall into three main categories: age, accessories and brand reliability. First, be sure you understand the difference between age and use. An eight-year-old outboard that has lain dormant inside a garage will be in much better shape than a four-year-old engine that has been run hard and denied basic maintenance. Check to ensure that the motor in question operates with a TC-W3 formulation of outboard motor oil.
Choose the accessories that best complement your pre-existing boat. For instance, find a motor that features cable steering, an electric start and other features that make boating more simple if you have a boat that allows for it logistically. As a final consideration, do some research about the specific brand of motor in which you want to invest. The big names in outboards have remained the same for decades: Yamaha, Evinrude, Mercury.