Yamalube 2W and WaveRunners Make for a Perfect Day at the Lake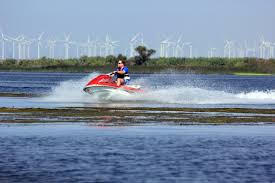 My uncle finally found the perfect day to take his WaveRunners out for the first time this season. On one of the sunnier afternoons this week, he towed his boats down to the dock to get them running around the lake. It wasn't exactly warm since it is spring, but it was at least not freezing cold like it has been so far this year.
My aunt and uncle enjoyed an afternoon of racing around the lake. They had a lot of fun playing around on an almost entirely empty lake, since there were only a few other people who were willing to risk the weather. He says that that day alone was worth all of the preparation and Yamalube 2W that he has put into the WaveRunners.