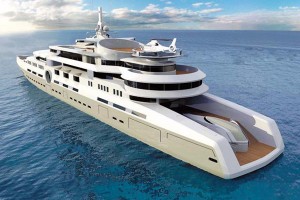 There have been words of speculation that some unknown Russian tycoon has secretly ordered the construction of the world's most expensive and privately owned yacht, the Hull 6154. It's said that this mystery ship is 438 feet long and features seven decks, 15 staterooms, a few Jacuzzis, a gym, two helicopter launch pads and storage space for a submarine.
The estimated cost of this ship is $270 million and it's allegedly being built by Fincantieri, a world-leading yacht builder based in Genoa. I'm sure when the reality of this mighty ship emerges we will continue to be baffled by its excellence.
There's no doubt that a ship of such magnitude relies on the clean power of Yamalube 2W oil.