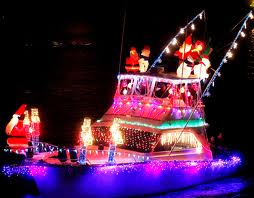 When the warmer months finally arrive it will be time to head out on the water. After having abstained for the entire winter I'll be waiting anxiously to head out for the first time. And each time I head out I'll probably stay out a little longer than usual. In fact, if you're like most boaters I know, you won't wait until it's actually "warm." It only has to be a little bit "warmer." However, going out in the early months of the year can leave us facing extended periods of darkness and even less-than-ideal weather and visibility conditions.
If you plan on being out during the twilight hours, or even when it's dark, then quality marine lighting is a true necessity. Whether it's the early morning hours or late into the night, you don't want to be caught on the water without the proper safety precautions. In addition to illuminating your surroundings marine lighting serves a host of versatile functions. It can help you see in dense mist or fog and makes you more visible to other boaters in low visibility conditions. Lighting makes an affordable gift that no boater should ever be without.
If your boater enjoys their 2-cycle engine then help them keep it running affordably with Yamalube 2W oil.