How Often Should You Change Your 2-Cycle Mercury Oil?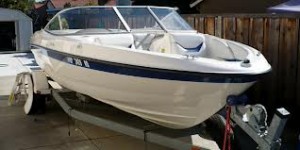 My brother has been really excited to take his new boat out on the water since he bought it specifically for this season. He has been trying to learn all of the things that a boat owner should know, because in the past he only ever rented boats or borrowed them from friends. My father has been helping him learn about the maintenance schedule of a boat.
He showed my brother where he can find good prices on Mercury oil and, after making fun of him for a while, he explained to him that his outboard motor is a 2-cycle outboard and doesn't require oil changes. He told him that he just needs to remember to make sure that the oil reservoir is full every time he takes the boat out throughout the day.  It could be a long summer for my dad…I hope it doesn't kill him…again.