Mobridge Fishing Tournament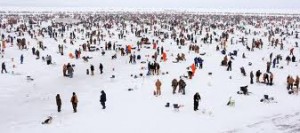 Who would have thought that a little town in South Dakota would receive so much attention? The Tenth Annual Mobridge Fishing Tournament in Mobridge, SD has set a world record for largest fishing tournament, according to the folks from Guinness World Records. Reportedly, 900 fishermen and women, forming 450 two-person teams participated in the ice-fishing tournament along a 30-mile stretch of the Missouri river, called Lake Oahe.
The $100,000 in prizes is a big draw for people. Anglers were already setting up the Friday before the tournament to secure a good spot. The harsh cold and wind didn't deter the competitors. Congrats to the men and women who braved the cold, but I think I'll stick to warmer weather fishing with my outboard motor boat, whose engine I keep running with Evinrude xd100 oil.