Nautical Theme Party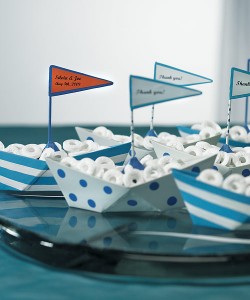 We spend most of the summer at the beach, so I wasn't surprised when my eight year old asked for a nautical theme birthday party. (Okay, he actually asked for a pirate birthday party). We had a lot of fun picking out and creating different decorations, like treasure chests full of gold and eye patches for the kids to wear instead of party hats.
For the place cards, we folded paper boats. Each child's name was written on the flag atop the main mast. The nautical/pirate theme was a great success. Perhaps when he's old enough to know how to change the Yamalube oil, I'll let him have a real boat party.