Getting to Know Your Vessel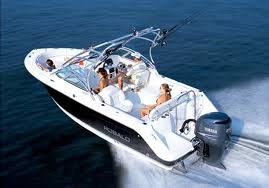 Last weekend I went out fishing with some old buddies on Elliott Bay in Puget Sound. One of the guys had just purchased new boat, so naturally I was intrigued about the vessel. The first thing I noticed was the Evinrude name plastered on the side of a large outboard motor, which is always a good sign.
As I began talking with him about the boat, it quickly became apparent that he didn't have a solid understanding of boat maintenance. He's a first time boat owner and had failed to even consider which type of outboard motor oil he was going to put in the engine. Over the course of the day I took every opportunity I could to bestow a few fundamental pointers on him. We're going out again next weekend, so maybe I'll show him how to do some simple maintenance in exchange for all the free beer he gave me the last couple of days.