Changing Oil in Honda Outboard Motors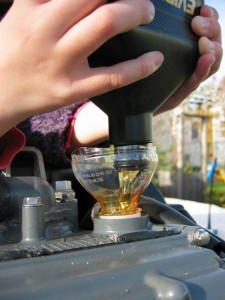 Four-stroke outboard motors by Honda rank highly for reliability. In this post we'll go over how to change the oil in a four-stroke Honda outboard motor. Start by taking the cowling off the motor; in some models there is a latch on the front and two on the back of the motor. Once the cowling is off look for the removal panel on the right side. Remove the panel to reveal the oil drain bolt.
At this point you'll want to have a bucket and funnel handy to drain out the old oil. Replace the drain screw bolt and panel, then find and remove, and replace the oil filter. Add new synthetic oil outboard motor ready, typically about eight quarts. Put everything back in place and then check the new oil levels with the dipstick.