Yamalube 2-M Makes My Boat Runs Great All Summer Long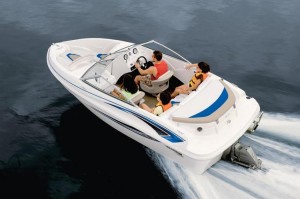 I purchased my first boat when I was sixteen with money I had saved up from years of being a paperboy. It was a beaten looking tin contraption with an electric motor stuck on the back and paddles for when I ran out of juice. Now, at thirty-six, and with a family of my own, I've upgraded my boat to a beautiful bowrider that fits the whole family plus my fishing equipment.
The type of boat wasn't the only thing to change, however. My idea of safety did as well. I didn't want my family to be stuck out in the middle of the ocean because of a faulty engine or bad oil. That's why I always use Yamalube 2-M motor oil. The last thing I want is to be stuck out to sea with a crying baby and an angry wife. I trust my sanity and my marriage to Yamalube.