WaveRunner Storage Information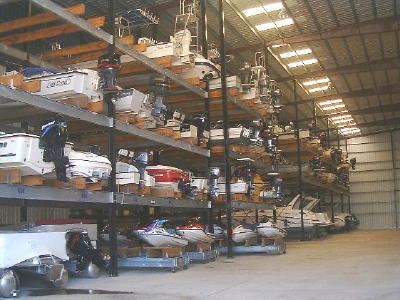 When storing a WaveRunner for the off-season, it's important to ensure that all the mechanical work is done beforehand. It's a good idea to service the vehicle before it is stored (if the WaveRunner is due for its scheduled maintenance). It's also essential to change the oil and filter before storage, as used oil can corrode the engine. Be sure to use Yamalube 2W oil in the engine, as this is the premium oil from Yamaha that is 100% safe and recommended for all WaveRunners. While changing the oil and filter, also top off essential fluids for the brakes, clutch, and hydraulics. For maximum security, replace all the essential fluids with a fresh supply to prevent corrosion and rust. Make sure to add stabilizers to all the fluids to prevent deterioration. Drain the cooling system and replace it with fresh coolant. It's also a good idea to run the engine once to ensure the stabilizers work their way into the engine.
Taking these steps will ensure the WaveRunner is ready for use, and also preserve it for the future. Don't forget to store the WaveRunner in a cool and dry place where it will be away from insects and other pests that could cause damage while the vehicle is unattended.