Winterizing with Yamaha 2M Oil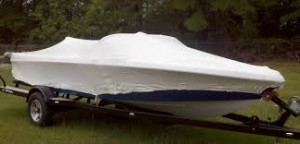 At the beginning of November each year, my uncle takes his boat out for the last time until March. He usually spends some time out in the Puget Sound, before taking the boat to a nearby lake to fresh water flush the motor for the season. When he brings the boat home, he quickly begins to follow all of the steps to winterize his boat.
He cleans the entire engine, removing all of the dirt that has built up over the summer and fall. He fills the oil reservoir with Yamaha 2M oil. He takes all of the fuel out of the motor so that he won't be using bad fuel when he starts up the motor in March. He gets his battery charged and disconnects it from the motor. When he is finished with these things, he stores the boat for the winter.