The Steady Evolution of Snowmobiles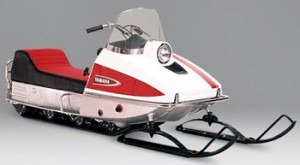 The first snowmobile-esque vehicle to be manufactured was intended for military and police transportation. In the mid to late '50s, Bombardier created a rudimentary snow track machine capable of holding up to a dozen people. Needless to say, this machine bore little resemblance to the sleek, sporty recreational sleds of today. Bombardier released a more compact snowmobile in 1959; for the first time, such a machine was meant for public use.
It didn't take long for Bombardier's rivals to begin introducing rival sleds, and this influx of competition brought about plenty of technological innovation. The designs of early snowmobiles left plenty to be desired. They were underpowered to begin with, and their frames were the opposite of aerodynamic. High-performance 2 stroke engines were released as snowmobiles gained widespread popularity.
These 2 strokes, both then and now, were kept performing at peak condition with the help of Yamaha 2s oil. In recent years, the Environmental Protection Agency has cracked down on high-emissions vehicles. Rigid environmental guidelines forced some companies to make a switch to 4 stroke engines while other manufacturers found ways to improve efficiency of their existing 2 stroke formula.