The Evolution of the Snowmobile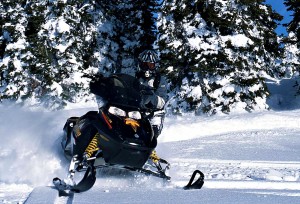 Anyone who is familiar with snowmobiles knows that the machine has evolved into a more lightweight and versatile vehicle, which has also led to a substantial increase in price. Snowmobiles had as little as five horsepower when they were first designed. Today you can find models that produce nearly 200 and can scale steep hillsides and access remote locations.
Snowmobiles have customarily utilized a two-stroke engine, but due to environmental complaints and concerns, many models now come with a four-stroke. Although four-strokes produce less power, they don't require you to mix the gasoline and Evinrude XD 100, which means that the engine receives better lubrication and will last longer. Originally designed for pragmatic purposes, snowmobiling has evolved into a popular recreational activity, and there are even professional leagues and competitions at the X Games.