History of Evinrude Outboard Motors Part 2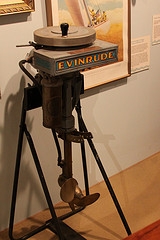 The alleged inspiration for the invention of the outboard motor is romance. Ole Evinrude and Bessie Cary were having a picnic two and a half miles from shore, on an island in Okauchee Lake. Cary said that she wished for some ice cream, and Evinrude, ever obliging, rowed back to shore for it.
By the time he got back to their picnic site, the dish of ice cream had melted. This sparked Evinrude's imagination. He envisioned an engine that could replace the oar. In 1906 Cary and Evinrude married, and the following year Evinrude founded Evinrude Motors in Milwaukee. In 1909, the firm introduced a one cylinder outboard motor that became an instant success. Check back tomorrow for the next chapter of the story, and don't forget to stock up on Evinrude XD50 oil!