Spotlight On: Mercury Marine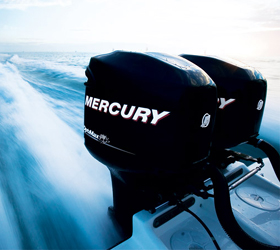 Mercury Marine is one of the most well-known brands associated with motorboats. The company was founded in 1939 when Carl Kiekhaefer, an engineer, purchased an outboard motor company in Wisconsin. Kiekhaefer and his workers rebuilt motors and sold them through Montgomery Ward, a mail order company. Since his motors withstood the elements better than other motors on the market, Kiekhaefer named his company after the Roman god, Mercury. 
One year after the company's founding, Kiekhaefer took 16,000 orders at the 1940 New York Boat Show. The company acquired government contracts during WW-II and continued to see the business boom during the post-war era. In 1961 Mercury merged with the Brunswick Corporation. Today, the product brands include Mercury, Mercury Racing, MerCruiser, and Mariner outboards. Evinrude XD100 oil is perfect for keeping your top notch outboard motor running.