Boat Engine Maintenance 101: Inspections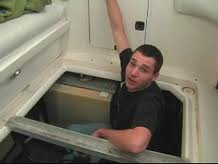 The cornerstone of engine maintenance is routine inspections. You can save yourself a lot of money and headache in the future by taking a few minutes to do a quick inspection every time you leave the dock. Most people assume that this is a complicated process requiring an extensive knowledge of engines, but it really just takes some common sense.
For the most part, it's easy to see when there is a leak, loose fittings or unwanted debris clogging up the system. If you don't feel comfortable looking around under the engine cover, seek out someone at the marina who can show you the ropes. I could write ten pages on how to check your Evinrude XD100 oil and examine the bilge pump, but unless you do it yourself, you will never get the hang of it. The important thing is to perform routine inspections and address any concerns before they have a chance to burgeon.