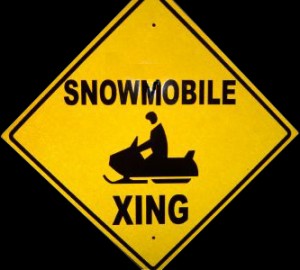 Today we conclude our week-long look at snowmobiles. It all began Monday with an exploration of a typical sled's drive system. From there, we compared and contrasted snowmobile tracks with those of a tank. Yesterday we posted some brief thoughts on the environmental impact of snowmobiling and the importance of replenishing two cycle oil. Now let's head even further down the trail to discuss safety tips.
As is the case with any vehicle, you must familiarize yourself with the terrain before deciding to see how fast you can go. You wouldn't drive 55 mph in a car down a narrow residential street for obvious reasons. Even if you're riding a snowmobile in a secluded spot, the quality and condition of the snow will make a huge difference. Snowmobiles are set lower to the ground than motorcycles, which might lead you to believe that there's less risk of injury. Bear in mind, however, that the open sled design creates a very real possibility of falling off.
The most critical pieces of safety equipment for a snowmobiler are the helmet, gloves and boots. Gloves and boots help keep the extremities safe from frostbite, which can nip away at fingers and toes to make precision steering a difficult task. When sledding in a populated area, snowmobilers must be familiar with conventional hand signals – they're very similar to the ones used by bicyclists. For example, a right turn is signaled by sticking the left arm straight out to the left. A right turn is signaled by pointing a bent left arm upward.