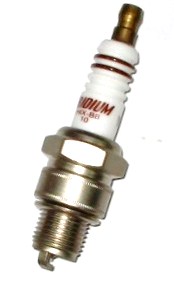 Before picking up where we left off yesterday – greasing a few of the moving parts of the throttle – let's quickly review what's been done so far. We began the annual full-scale outboard tune-up by looking closely at the propeller for serious signs of wear and tear. Next, we looked for visible leaks around the propeller's base. We added new marine engine oil to the outboard and replaced old lubricant in the motor's lower unit with new.
Now it's on to the throttle control – a crucial part of the boat that is used to determine fuel flow and, in effect, the speed of the craft. Start twisting the hand throttle around, watching the motor all the while and making mental notes of the moving parts. These should then be lubricated with standard marine grease. As always, the motor manufacturer may have a special suggestion as to which brand to use.
You're now ready to disengage the sparkplug wires. Take special care to memorize where they are located and how they are positioned – that way you'll be able to replace them just as they were. Take an adjustable wrench to each sparkplug and substitute it out for a new one. Tighten the new plug with your hand, then secure it fully with the wrench. Be forewarned that if you should overtighten the plugs, damage to your cylinder head could result.