Honda Marine Introduces New 60HP Outboard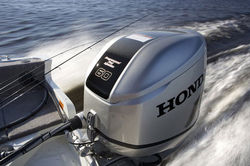 Honda Marine, one of the premier manufacturers of outboard motors, introduced it's all new BF60 outboard engine at the end of May. This new outboard is ideal for pontoons, skiffs, inflatables, and aluminum bass and walleye boats. The new BF60 provides excellent fuel efficiency, consuming less gasoline and boat motor oil than most other outboard engines of the same class. In addition, the BF60 runs quiet, making it the ideal outboard engine for fishermen. The new BF60 is also great for trolling as it has a superior battery capacity to keep electronics charged all the time. In addition, the engine weighs just 239lbs, making it one of the lightest engines in its class.
Honda designed the new BF60 with the environment in mind as well, and the engine has low emissions and meets the rigorous standards of the California Air Resources Board (CARB). In addition to this new engine, all Honda outboard engines meet CARB standards, and with models ranging from 2 to 225 horsepower, there's an outboard engine for all boaters from Honda Marine.