Putting in a Bulkhead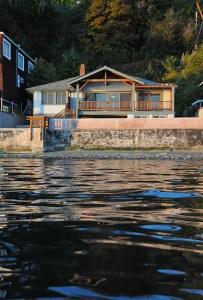 In addition to putting in a dock, my grandparents also decided to put in a bulkhead. A bulkhead is essentially a retaining wall that helps prevent erosion caused by wave action. Getting a permit to build a bulkhead can be tricky because there are some drawbacks to the environment in terms of redistribution of sand and eel grass. The township did grant a permit, but my grandparents had to sacrifice more of their land than they originally wanted to.
Our friendly neighbor recommended an experienced contractor who had put in our neighbor's bulkhead years before. The man and his crew did an excellent job; the bulkhead has weathered many storms without damage. Our neighbor has been very helpful; first with the Evinrude XD 100 oil recommendation and then with the bulkhead contractor contact information.