The Duwamish Fireboat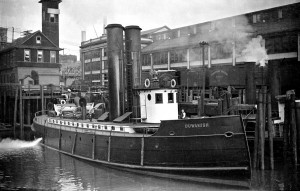 For 75-years the Duwamish was one of the most important fireboats in the United States. The Duwamish was built in 1909 specifically for the Seattle Fire Department. On board were three American LaFrance steam piston pumps rated at 3,000 gallons per minute apiece. An upgrade in 1949 bumped the rated capacity to 22,800 gallons per minute. Only the L.A. Fire Department's Warner Lawrence has exceeded the Duwamish (38,000 lpm), and that didn't occur until 2003.
When volunteers are available, visitors can board the Duwamish, which is moored at South Lake Union Park in Seattle. The boat is used by the Sea Scouts (a part of the Boy Scouts of America) and maintained by the Puget Sound fireboat Foundation. This is another vessel I'll tell my buddies about when I go get my Mercury 2 stroke oil.