A Mix of Two Cycle Outboard Oil for a Day on the Bay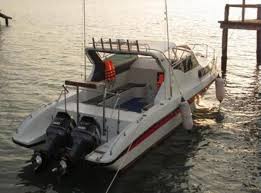 Since the weather has stayed fairly nice all week, my father decided that yesterday would be a good time to take his boat out on the bay to see how it was running. He wanted to see whether the work he had done before winterization last year actually resolved any of the issues that he had been having with his boat.
He took his boat out on the water, making sure that he had a good mix of gasoline and two cycle outboard oil in his back up motor just in case something went wrong. That was a good plan, because only a little ways out, the engine died and wouldn't start again. He ended up using the back up motor to get back to the boat launch.