Top 12 Most High-Tech & Luxurious Yachts of the World ~ Maltese Falcon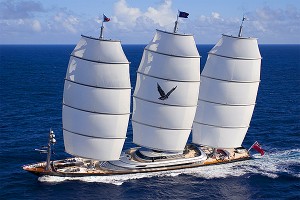 Now we've finally cracked our top three with a true beauty, the Maltese Falcon. The yacht was built by Italian Perini Navi Yachts and formerly owned by American millionaire Tom Perkins. The 289-foot sailing yacht was sold in July 2009 for 60 million British pounds.
While the world's largest and fastest personal sailboat has many luxury amenities, it is most well-known for its record shattering speeds. The DynaRig is responsible for its speed. The Maltese Falcon has won several awards including several from the prestigious Boat International World SuperYacht Awards. If you're lucky enough to have a yacht even a tenth as nice as the Maltese Falcon, you should use Yamalube 2W oil to keep it humming.